Hugging people in all 50 states is task that I never imagined that I would complete.
With thousands of stories and so many more pictures, steeping everything down to just 1 image per state wasn't easy. But, within these pictures, I do believe that I captured a great cross-section of life in America as well as provide your with a glimpse of the experiences that have occurred to me since 2001. Explore the states and stories below!
Embracing Alaska was my 50th state and an overall celebration.
In '15, I loaded up a rental car with gifts, linens and a ton of feminine hygiene products and drove it from Philly to Mobile, Alabama to be there in time for Christmas breakfast.
Here I am, holding one of the hand of one of the women forced to stay there for her protection.
On my Hugs and High5s tour I stopped by Little Rock's Central High School and while at this historic landmark, I encountered this woman who screamed, "Oh my God, I just read about you in today's USAToday!!"
While posing for a picture, she said that her name was "Big Denise" and that she didn't want a regular embrace like everyone else; she wanted a "Special Hug" - this is what happened.
On my second bike tour of the USA, I volunteered at the Foundation for Blind Children in Phoenix and encountered this feisty Oklahoma woman who, despite being born blind, taught herself to ride a bicycle when she was girl.
She said that she was tired of hearing her older sister brag about riding all the time and waited until everyone went to sleep.
"I didn't need daylight like they did and knew that there was nothing but farmland around" she said. A few hours and some knee scrapes later, she was able to bike and said that it felt "amazing" to tell her sis that bicycling was "no big deal"
Nothing motivates you like a sibling rivalry.
Of everything that I've done, delivering the commencement address CSUN - California State University Northridge - and inspiring the graduates, their parents, family, faculty and staff ranks pretty high up there!
Here I am smiling, laughing and high5'ing my "Big Dave" sign with some students at Colorado's oldest Mosque in Denver.
This state line pic is from my first trip across the US in 2002!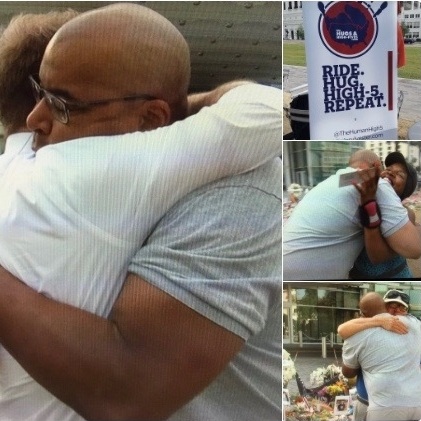 After the Pulse Nightclub massacre, I traveled to Orlando to offer what love, comfort and support to the community that I could.
When I saw the sign for this town there was no question that I was going to stop. This is my town:)
On the way back from biking Australia, I met this woman in the Hawaiian airport who loved what I was doing by hugging and high5ing the world but felt that she wasn't pretty enough to be photographed...She was:)
In Boise, I happened to encounter every parole officer for the state as they were getting ready to be sworn in for duty.
In the La Colombe Cafe in Chicago's west loop, I encountered this shy person who didn't to be photographed but wanted to high5 my sign.
In Indainaapolis, I ran up to this bride-to-be and said, "I know this sounds crazy but if you hug me right now; you'll be the 11,000th person that I have hugged this summer!!"
Before I could even explain any more, she said, "awesome' and gave me a hug.
At The Field of Dreams in Dyersville, Iowa I met Cooper, a special needs kid, who loves hugs and high5s. His dad said that he kept repeating "Big Dave hugs" over and over again.
For Valentines Day '16, I staged a Hug and High5 Party at the heart- geographic center - of the country in Lebanon, KS. There, I met these two lifelong friends one is 100 and the other is 99-years old.
After a school shooting in Benton, Kentucky the school superintendent invited me to do what I could to engage and inspire the students there. Here I am embracing one of the victims.
On my '09 bike trip across North America, I volunteered at the New Orleans SPCA and met this cool kid.
According to Google, Presque Isle, Maine is one of the nation's most depressed cities. For this reason, I elected to stage a Hug and High5 Party there. What is a Hug & High5 Party, you ask??
It is when The Mayor, Police Chief, Fire Chief, some folks from social services and myself set up at a central meeting point just to offer hugs, high5s, goodwill and advice to anyone that comes through.
At best, people gain direction in life.
At worst, elected officials get meaningful face time with their constituents.
Everybody wins!
In '09, on my second bike trip across the nation, I stopped for a day to volunteer at Walter Reed Medical Center and also say "thank you for your service."
When asked on a Hebrew School worksheet if she ever met a real hero, Mira, the 10 year old daughter of a dear friend, wrote: Big Dave.
Because I see Mira and family so infrequently -maybe every other year - her hero choice was especially honoring.
Kids do say the darndest things but sometimes from their open minds sprouts some of the most stirring things.
Thanks for thinking of me as a hero, Mira - it means more than you realize.
When I thanked this Detroit woman for her smile - he smile got even bigger and made my day!
Guess what book the students of Minneapolis College Preparatory School have to read???
That's right, my book: Traveling at the Speed of Life!
My 4th grade school picture from Ward Elementary School in Starkville, Mississippi.
This Springfield, MO man stopped having a meal with his family to say prayer for my provenience.
On the day after the mayhem that occurred in Charlottesville, VA I ran into the grandmother at a True Value Hardware in Belgrade, Montana.
She teared up a bit as we spoke about what was happening in the county and shared that she liked me and that she gets very protective of those people.
"This country is crazy and I am scared for you and don't want you to leave my state," she said. "But," she followed with, "you HAVE to finish this; people need to see the good work that you are doing. But please be careful...Please!"
As it was getting in my car she raised her fist and yelled, "Finish it; hug everyone!"
When I held the Hug and High5 Party at the center of the nation in Lebanon, Kansas, I saw that I was just 19 miles from another state and figured that I would go there and hug some more people. Here I am with a woman from Red Cloud, Nebraska.
How many people can you hug in one day??
My record is 1330 people in one day: July 31, 2017.
There is a cycling tradition where you dip the rear wheel of you bike in the Pacific Ocean -bike the continent -and then dip your front wheel in the Atlantic.
On my first trip across the US, that tradition wasn't enough for me and I elected to take my whole body inn the ocean.
Here I am on the last day of my 2002 bike tour of the US - I was tired but energized at the same time and ready for life's next adventure!
At a hotel bar in Albuquerque, I met these 3 sisters who buried bur their father earlier in the day.
After finding out that it was my birthday, the bossy sister - the one on the left - proclaimed, "Good, then we all have a reason to drink tonight!"
Of the 14,000 people that I interacted with during my '17 Hug and High5 Tour of the nation - 4 elected to visit the 9/11 memorial and find my friend, Kevin Bowser's name.
They never met Kevin- he's been gone since 2001- and only knew me long enough to have a quick conversation and share a hug - that's it.
But, in our time together, a significant impact was made in our time.

Their gestures were surely touching but what this picture really does -is show the great impact that we can leave upon those that we interact with.

Use your moments to make a good impression.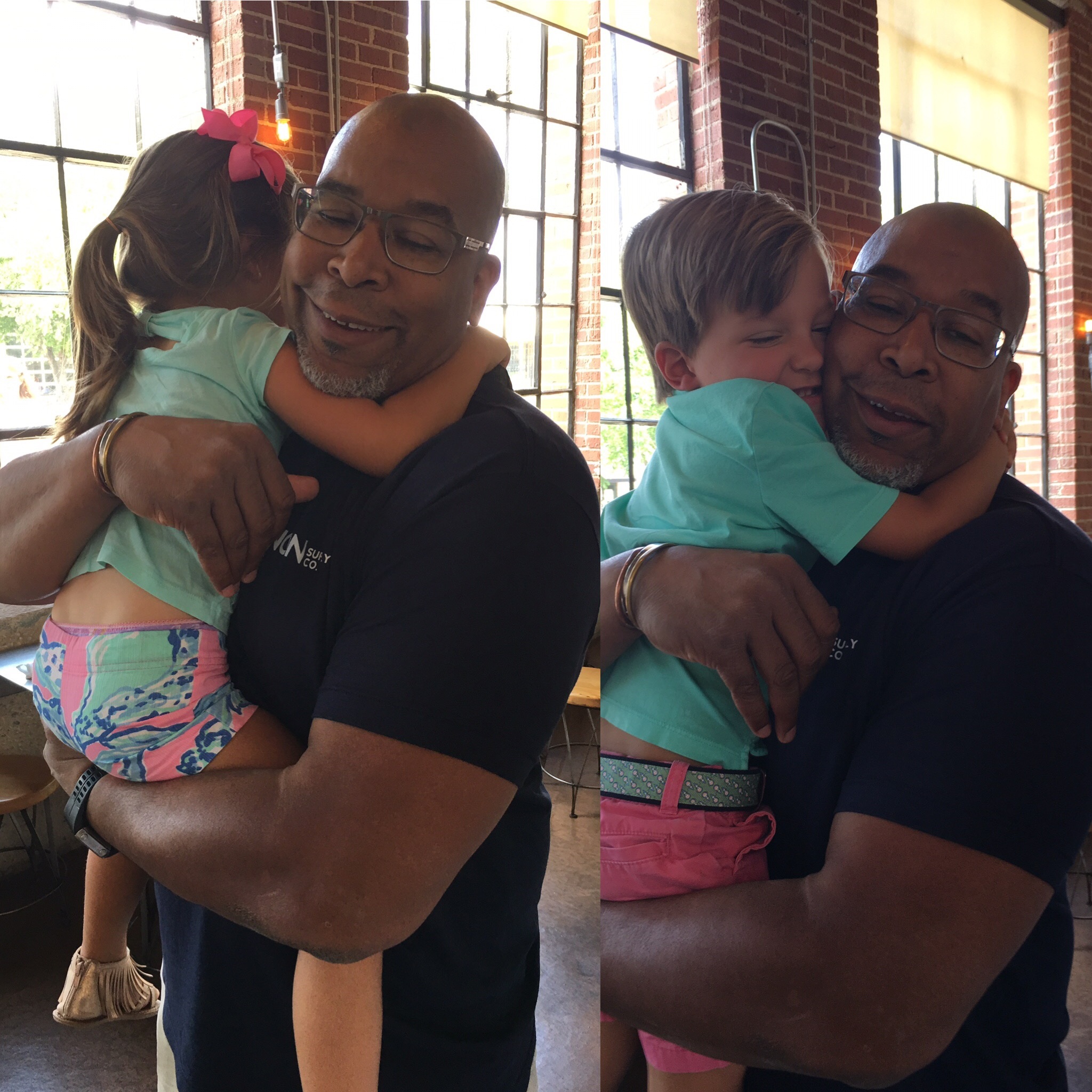 In Charlotte, i ran into these cute twins.
She said that she was the best hugger in the world.
He said that he was the best high5'r in the world.
They were both right.
This is Kendrick Eagle - in the suit- along with his 4 little brothers and big sister.
Kendrick is from The Standing Rock Sioux Reservation and was telling me of how he met the Obama's numerous times but thought that meeting me was cooler.
"I only met them; I am actually speaking with you," he said.
Anyone that says I am cooler than a president is alright in my book!
At the RNC in Cleveland, I had the honor of hugging The Lone Survivor, Marcus Luttrell.
As expected, he was taller than Mark Wahlberg and had the commanding presence that you'd expect from a US Navy SEAL - but there was also a lot more warmth and introspection from him as well that made him leave an indelible mark.
This picture of me embracing a random dude outside of the Oklahoma City Memorial Museum is one of my favorites.
One of the first book signings I had for my book, Traveling at the Speed of Life, was at a Portland, OR bike shop. On my way there, I met this smiling woman who wanted a copy.
The best family I could hope for: they make me go. Here we are on a hot day in the summer of '73.
In Cranston, RI, this woman walked right by me.
Minutes later, she came back and apologized for being rude and said that she couldn't touch me because she just had a liver transplant but wanted to be a part of what I was doing. She then asked, "Does an elbow count??"
"All the time," I said.
This Charleston woman was the 1600th person i hugged in a week in my 2017 tour.
While watching the Mitchell Day Parade in Mitchell, South Dakota I got the urge to join in on the festivities and did. Here I am yucking it up with a local.
In '08, when biking through Nashville, I met councilmen Erica Gilmore who elected to honor me with a proclamation from the city!
This is baby Miles who I met in Austin, Texas. I love this picture.
Here are some people I met in a SLC Italian restaurant.
Here I am biking up Hogback Mountain, I believe, in 2002.
It wasn't easy being a a human jungle gym and a body pillow for 4 beautiful kids in Falls Church, VA but i did it.
At Mount Rainer State Park, I ran into this family and guess where they were from....that's right: Philly!!
This picture with this woman who was small child during the holocaust is one of my favorites from my 2017 tour.
We met randomly at the White House and as we embraced she whispered, "I love your strength," in my ear.
I loved her strength too.
Before I could even finish my order at Huntington, WV's River and Rail Cafe, the manager began calling her friends and some nearby customers.
"There's a guy here hugging people; get down here!"
One of those hugs led to me speaking at an addiction support group for women - which further led to this picture of the ladies high5ing my sign.
Taking a break from the bike as I enter La Crosse, Wisconsin.
For those that think they grew up in a small town; Welcome you to Lost Springs, Wyoming!
Population: 4